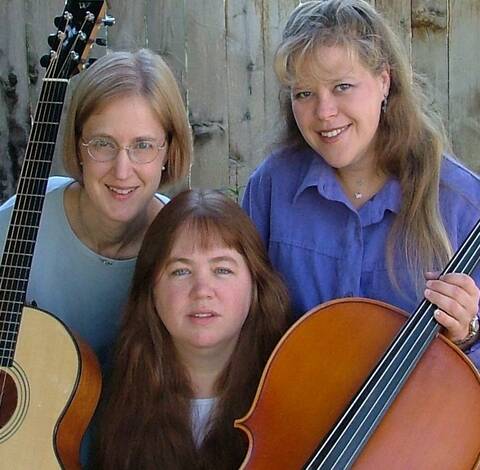 Trillium-239 has been described as the harmonic equivalent of peanut butter and jelly; distinctly different and perfectly complementary. Playing guitars, banjo and cello, their original songs and intricate harmonies have been enticing audiences across the Northwest. Humphrey and Hartman, both performers in their own right, joined forces in the mid 90's. Cellist Michelle Cameron joined them in 2003. Strong vocals and tight harmonies continue to be the signature of their high energy performances.
Playing primarily original material, Janet and Mary's writing styles are diverse; their lyrics are gloriously unique and wrapped in silky harmony. The addition of Michelle Cameron to the group brings both dynamic range and a new focus on unique and complex arrangements.
Mary Hartman finds inspiration in the sublime and the ridiculous. Her award-winning songs cover topics from love and mercy to goose poop and rear-end "cleavage." One fan described her pure alto voice as "filling a cathedral" and her writing reflects a wide range of musical styles. Blues, ballads and music hall "camp" are used to support Marys thought provoking lyrics. Mary keeps a day job as a hydrogeologist, tirelessly studying wet rocks.
Janet Humphrey is a transplanted easterner and her writing style reflects her diverse musical background. Degreed in music theory and composition, she's done commercial arranging, fronted a six man jugband and taught fingerstyle guitar. Her love of blues is reflected in her original songs. Janet's lyric topics run the gamut from historical ballads that explore the human condition to whimsical blues about the mundane. Audience favorites include Chocolate Reverie and Reds Refrigerator Rag. Several Humphrey originals have been recorded by others.
Michelle Cameron is versatile on the cello, sometimes lyrical, sometimes rhythmic, always interesting. The cello often provides a third voice to Humphrey and Hartman's alto tones. As the only lead instrumentalist Michelle often does double duty, finding unique ways to sound like bagpipes or jazz sax. She even plays some screaming solos usually reserved for lead guitar (with fuzzbox). When she's not playing with the band or working her day job as a nuclear chemist, Michelle makes appearances with regional Symphonies, sea chantey singers and anyone willing to offer bacon bribes.